10 Top Shoulder Length Hairstyles – Wavy Hair, Women Medium Haircut
This season's top shoulder-length hairstyles on wavy hair have a ton of new twists! You can use trendy defined, tousled waves to add volume in specific spots that flatter different face shapes and hair textures. And balayage can highlight your best features and create a contemporary, high fashion look for women of all ages! So if you're ready for an update that makes you look more attractive and modern, you'll find it here:
Two-tone blonde with ash balayage – shoulder-length hairstyles – wavy hair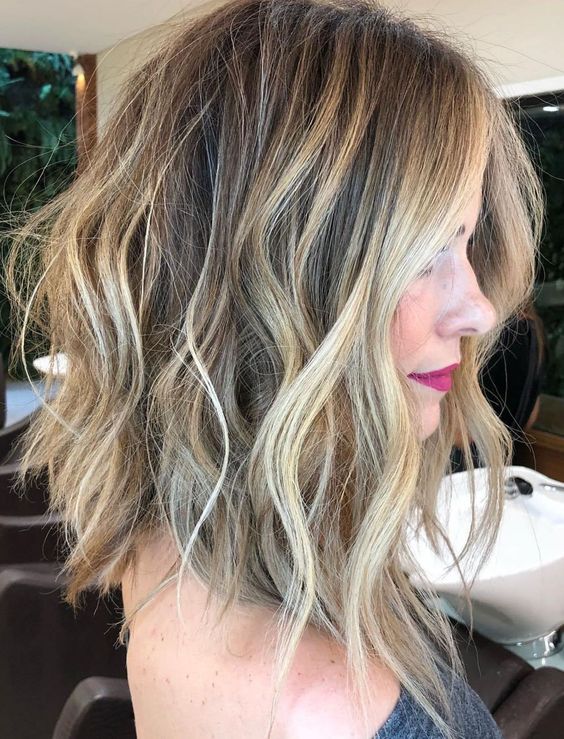 Credit
Centre partings suit oval face shapes and have the added advantage of covering any wrinkles at the outer edges of eyes! You can boost volume at the sides of shoulder-length hairstyles with waves by tousling the defined strands. And this is great for adding width to narrow face shapes. Trendy two-tone blonde has high-fashion balayage in white-blonde and ash, adding 3-D color depth.
Center part inverted lob – shoulder-length hairstyles – wavy hair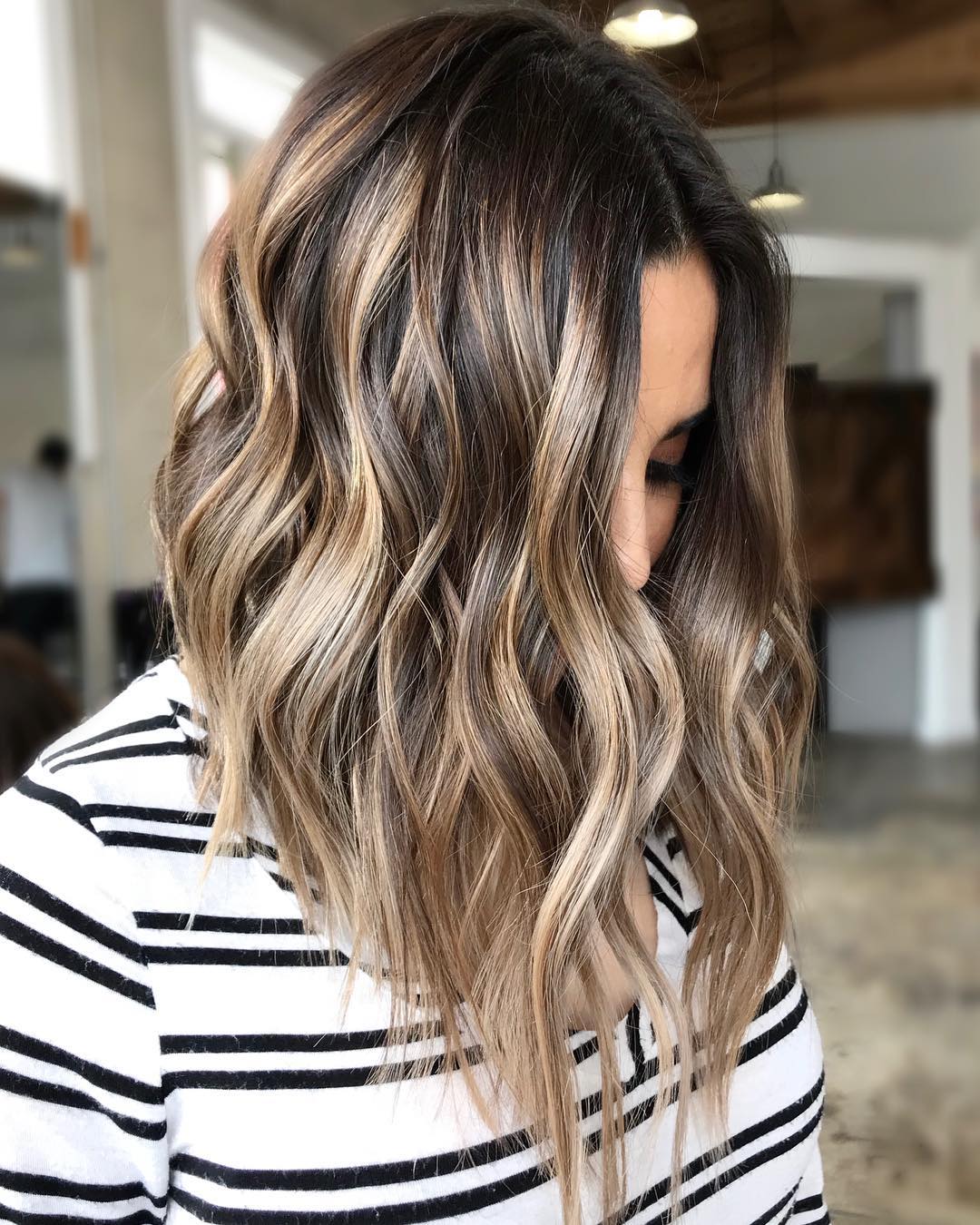 Credit
Thick hair doesn't need to be fluffed out, as it has its own natural body. This classy blend of neutral and beige-blonde balayage transforms dull, dark-blonde hair into a trendy, blonde style. A steep, inverted bob adds loads of contemporary style to shoulder-length wavy hairstyles. And heavily-textured tips create a ragged bottom edge to complete this up-to-the-minute young look.
Defined copper-beige twists on shoulder-length hairstyles – wavy hair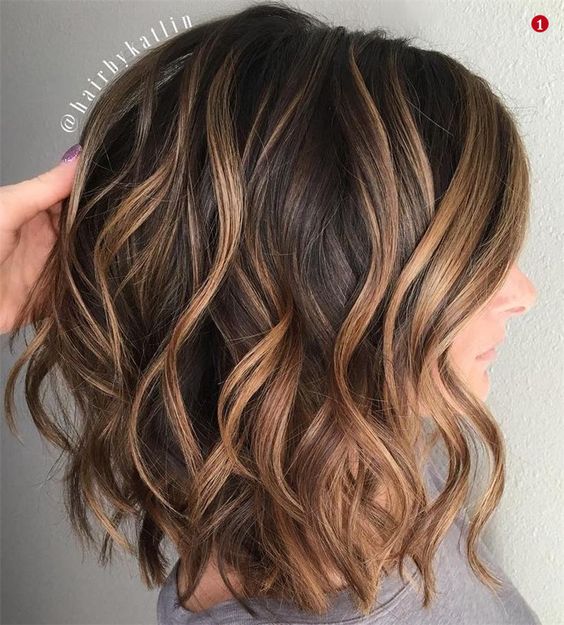 Credit
This shorter length lob is the same length, except for shorter layers at the nape. This makes it an excellent choice for fine to medium hair that needs help to look thicker. Trendy, choppy, textured tips also add density at the tips. And dark-blonde roots look fantastic with this soft, copper-beige balayage, flattering skin with warm undertones!
Oatmeal blonde with neon white balayage – shoulder-length hairstyles – wavy hair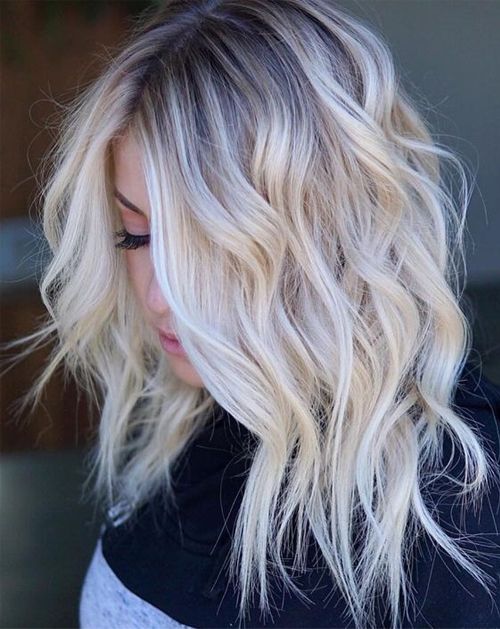 Credit
This expertly blended, blonde-bombshell, shoulder length haircut has a super neon finish! You get this stunning, eye-catching effect by adding bone-white blonde balayage, especially around the face and on the tips. And heavily tapered tips add even more edge to a glam, rock-chick shoulder-length hairstyle.
Soft copper-golden-blonde wavy lob – shaggy tips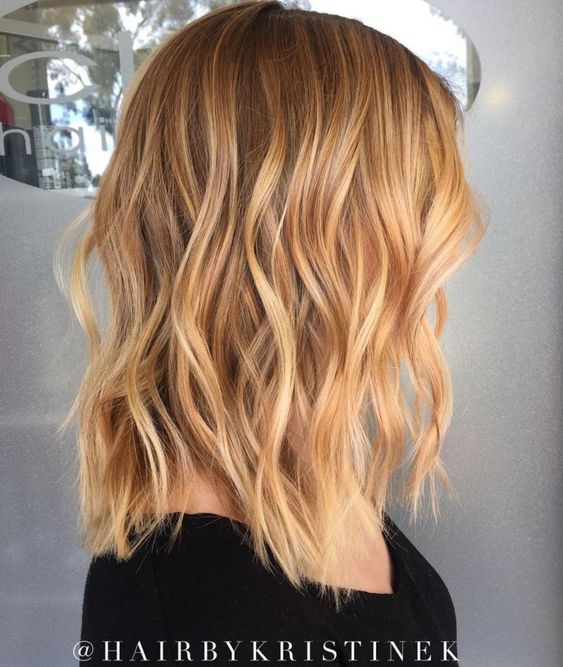 Credit
Mid-blonde is one of the most skin-flattering tones. And this gentle copper-blonde, with warm-gold balayage, is perfect for complexions with a warm undertone. The long layers are heavily textured at the tips for create a choppy, uneven vibe. There's a nice creative contrast between the smooth top and a natural, defined wave style, set against the trendy, uneven bottom edge!
Shaggy wavy blonde lob for thick hair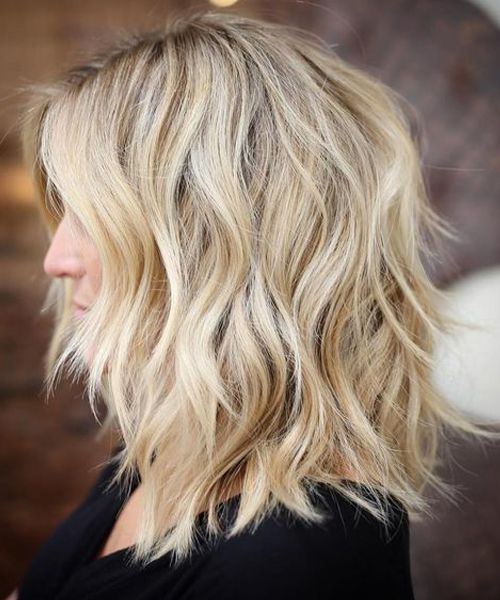 Credit
Thick, blonde hair doesn't have to be difficult to control, if you choose a highly fashionable shaggy shoulder-length lob. Sliced layers ensure thick hair falls naturally into gentle waves, with tapered tips removing the bulk at the ends. Highlighted with light-golden blonde tones and mid-blonde balayage, the result is a lovely mane of hair – full of incredible texture and lively movement!
Fluffy tousled lob with blonde balayage for fine – medium hair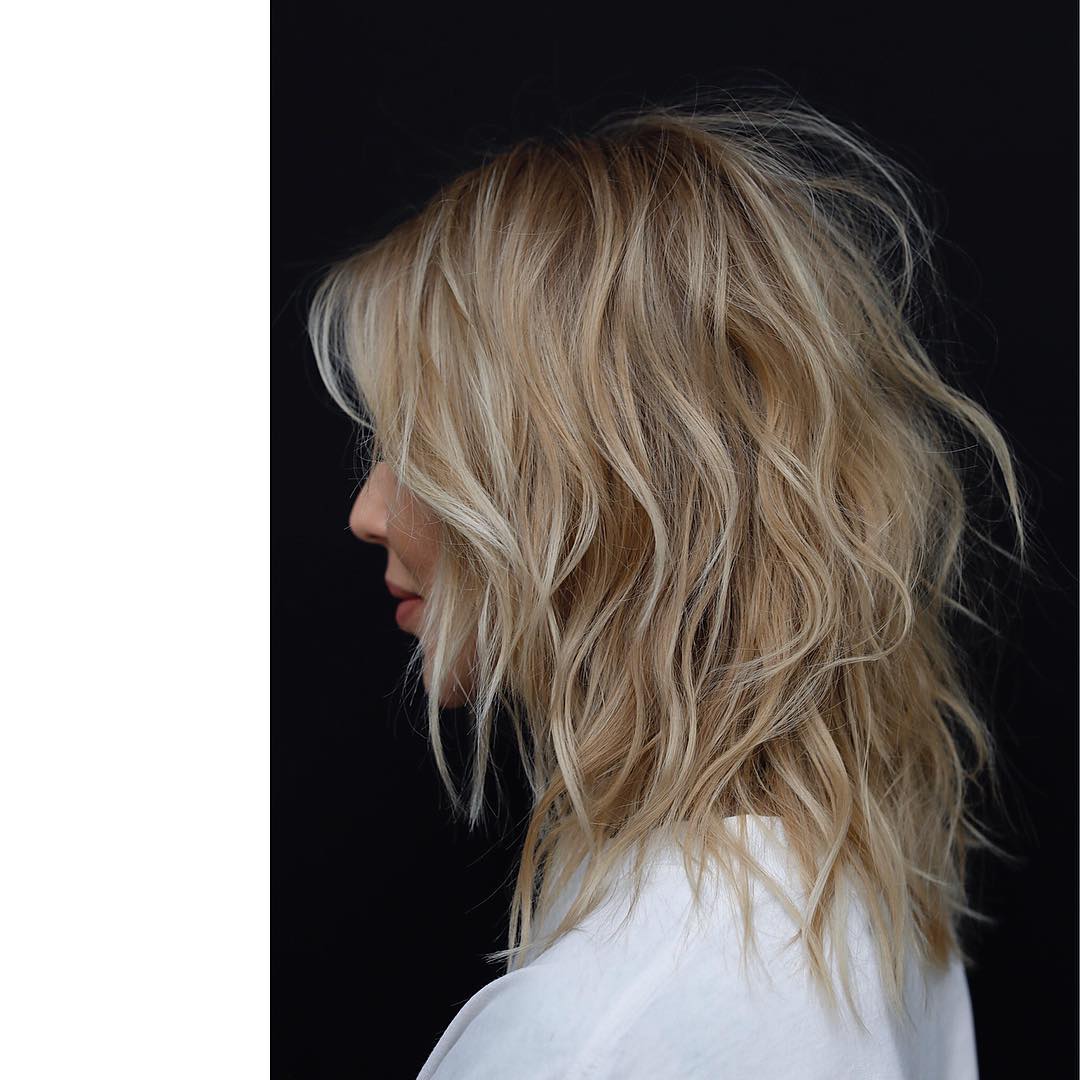 Credit
Waves and tousled styling are just what you need to add volume and density to fine, lank hair. And if it tends to be greasy, adding bleached-blonde highlights will cure that problem, too. This shoulder-length, wavy blonde lob is full of 3-dimensional texture and tousled movement. And varying the shades of blonde, especially with white-blonde balayage on the top layers, finishes off a clever and attractive modern hairstyle.
Subtle glamour – pale-golden sliced layers on inverted lob for thick hair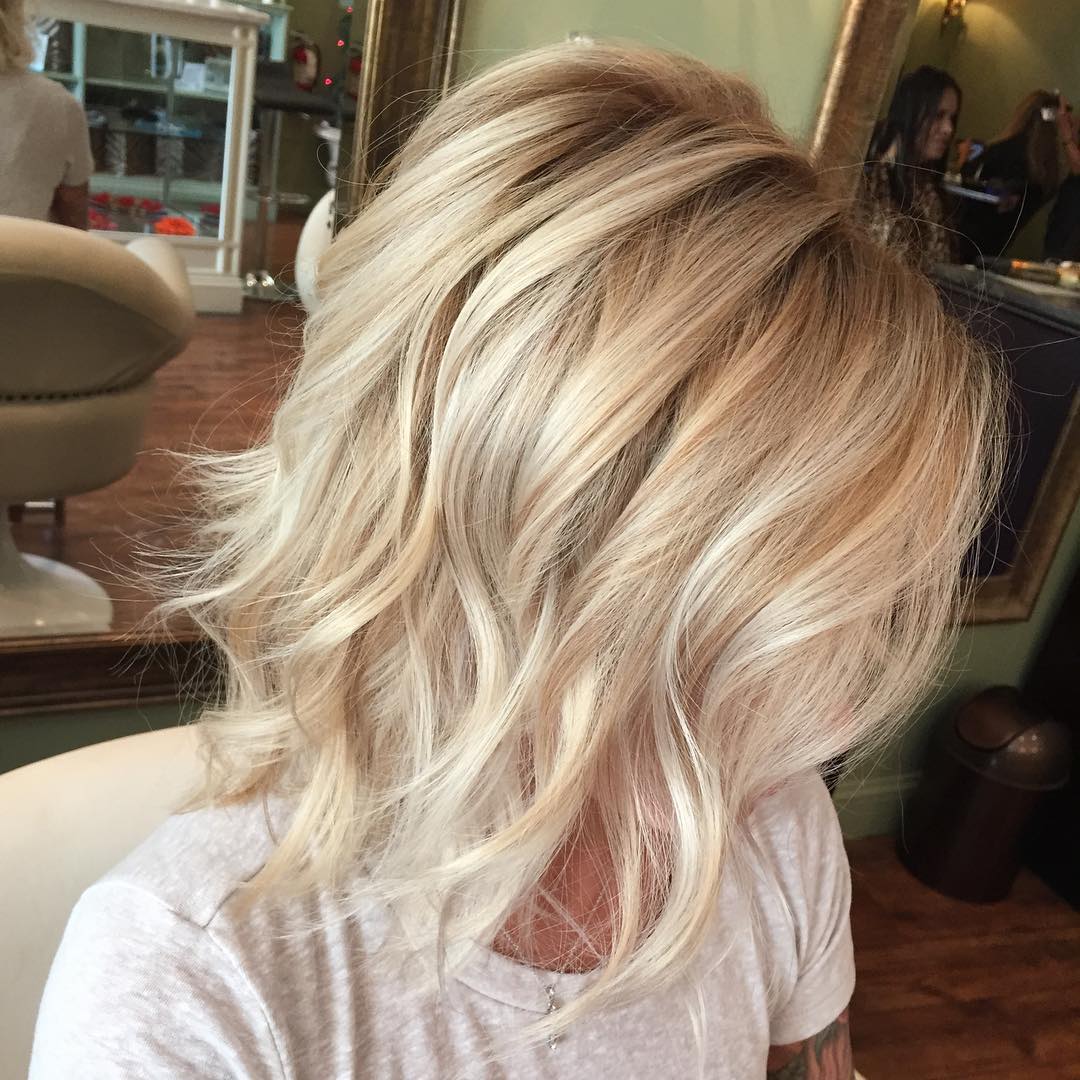 Credit
Gentle directional waves bridge the gap between old-fashioned curls and uninteresting straight, long hairstyles. And they're easy to get if you ask for sliced layers for long, triangular hair sections with finely tapered tips. This pale-golden lob uses beautifully-blended shades of neutral and pale gold, with touches of ash-brown roots and balayage, to create a classy, subtly glam look.
Mid-caramel with blonde balayage on wavy lob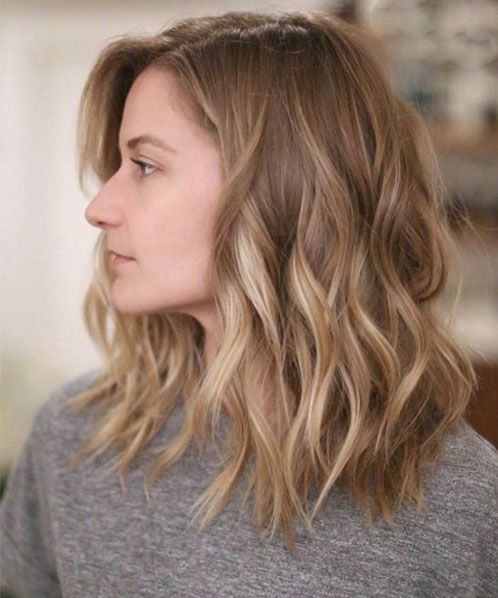 Credit
Mid-caramel blonde is a very natural makeover hair-color, for hair that's dark-blonde, mousey or showing signs of gray. An off-center part flatters faces that are mid-way between oval and round and gives an attractive asymmetric vibe. This lovely wave-pattern is inter-leaved at cheekbone level and highlighted with light-beige blonde balayage for a classy shoulder-length hairstyle.
Fun pink wavy lob to match black and pink tattoo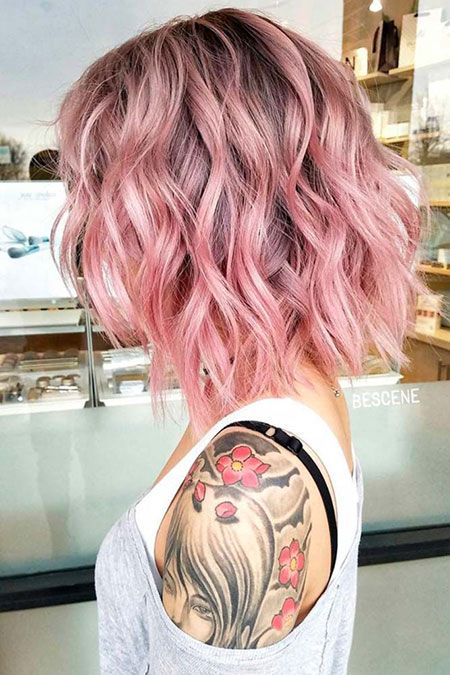 Credit
Now that tattoos and skin-art are so popular, it pays to ensure your hair-color truly complements your permanent ink. The black and pink tattoo is perfectly matched in the soft pink and blonde shaggy bob, with black roots. Waves starting from the roots help add all-round volume and textured tips create a suitably edgy bottom line.
There's no doubt that the shoulder-length hairstyles have taken over from extra-long hair, for women who like lots of style features and a contemporary look. As today's gallery shows, you get so much more texture, movement and three-dimensional volume, with shoulder-length hairstyles on wavy hair!