18 Beautiful Blue Ombre Colors and Styles
Blue hair is the "it" color for 2018. Indulge in this dazzling Ombre trend with one of these beautiful blue Ombre colors and styles, with everything from exotic bright pastel blues to sultry midnight tints.
Wavy Long Razored Blue Balayage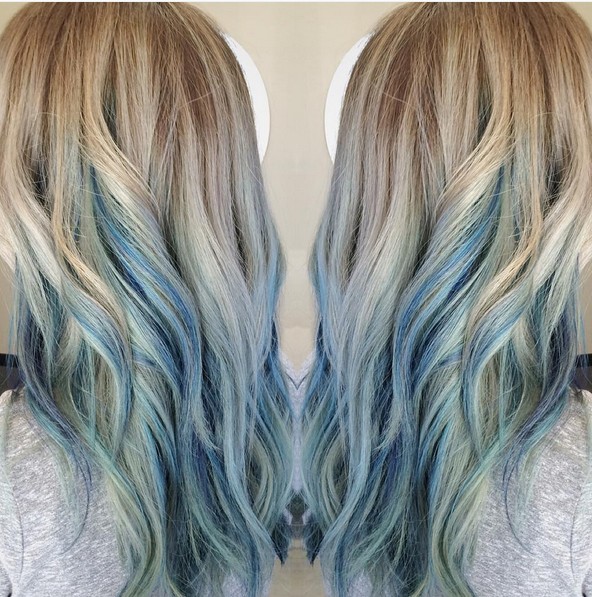 Credit
Undoubtedly one of the most delicate takes on blue Ombre hair, a soft modern hue of blue sweeps delicately against a blonde base for a subtle and sweet finish. Her lengthy razored cut is softened with loose waves that really showcase the blend of dainty blues and blondes.
Blue and White Curls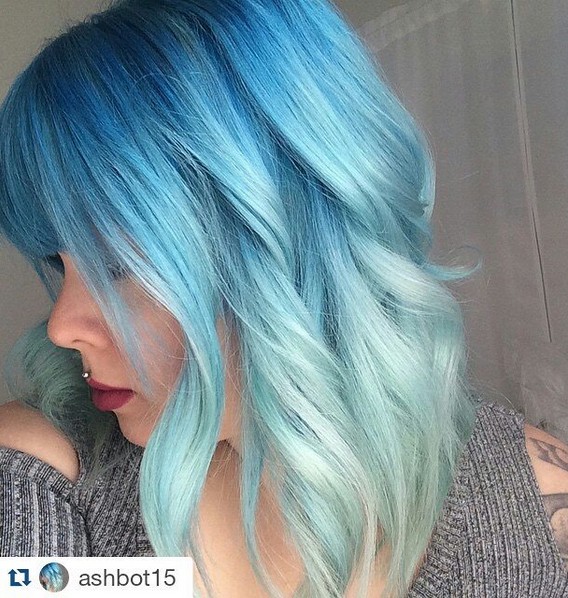 Credit
For a more bright and perky shade that's sure to turn heads, consider this light and striking a blue and white match. The brilliant colors will dazzle magnificently in the sunlight, and her loose curls and thick bangs create a stylish and edgy look.
Dimensional Blues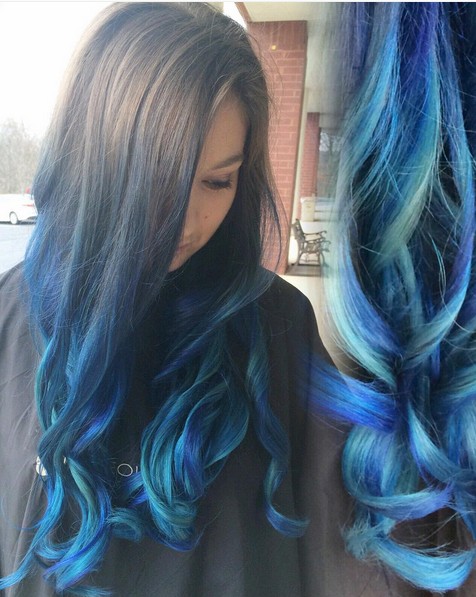 Credit
Forget 50 Shades of Gray; how about 50 shades of BLUE? This glamorous style combines a multitude of bluish hues from deep, purple blues to perky mermaid blues for a dimensional lower half that plays off chocolate brown roots elegantly.
Aqua Blues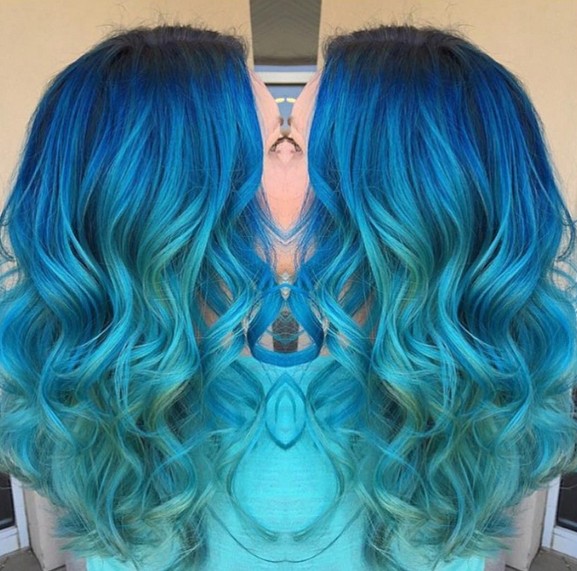 Credit
Becoming a charming, breathtaking mermaid is a cinch with this blue Ombre Hairstyle. Aqua blue hues are chunky and bold, but voluminous ringlets sweep this style into a majestic and feminine look great for younger girls.
Exotic Blues
Credit
A divine deep hue of blue on top is contrasted magically by a bright, mint turquoise shade, creating an exotic Ombre blend that's given a dose of glam and beauty with loose, flowing curls.
Black and Midnight Blue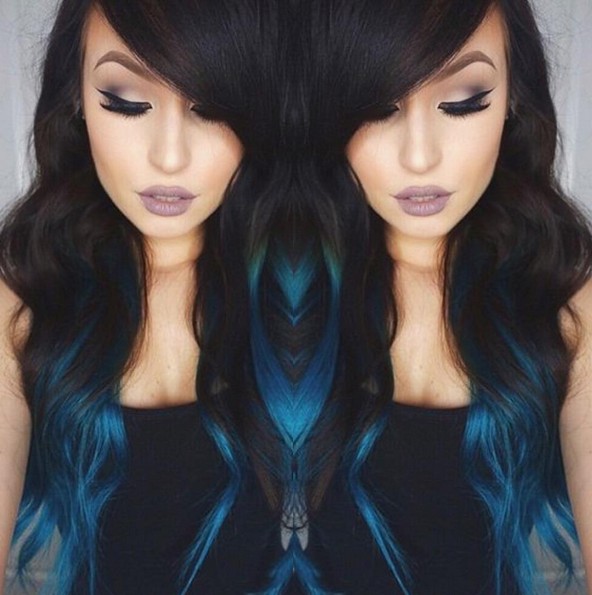 Credit
Blue Ombre doesn't have to be vivid, outlandish colors that stick out in a crowd; you can sultry and enticing with a dark hue like this black and midnight blue Ombre combination. Side swept bangs hanging sexily over one eye only adds to the sultry appeal of this style, as do the delicate waves from root to tip.
Dark Blue Tips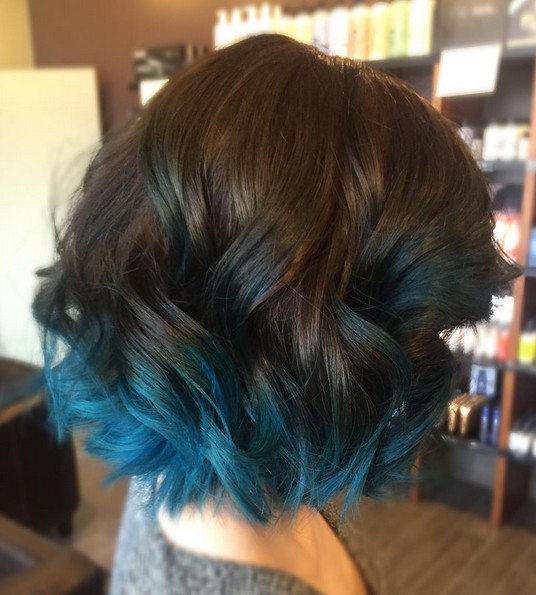 Credit
A gentle shade of blue found on the ends of your mane is a subtle and sexy way to add a splash of color to a rather dark and dreary base. For more contrast, try a tri-color route with black, brown, and blue. Add in some bouncy, full ringlets for cute personality.
Greens and Blues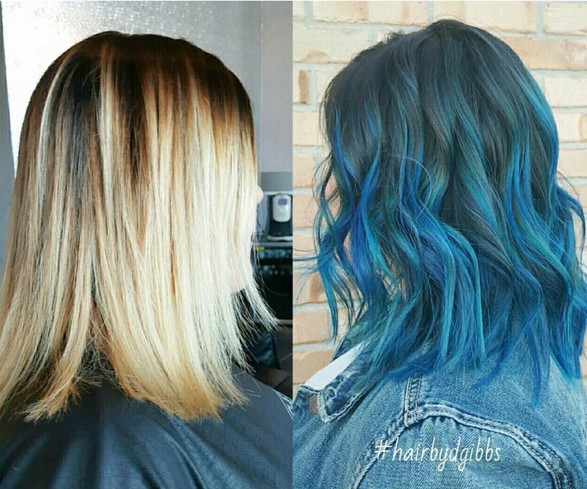 Credit
There's a variety of colors found in this cute wavy short bob, from dark blues to vibrant blue hues, soft sea foam greens to purple-times blues. So many fascinating shades make this a standout style!
Silver-Blue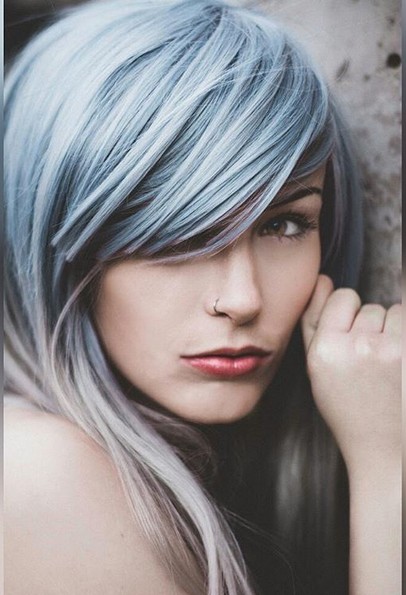 Credit
Oozing with mystery and a sexy appeal, this hair color features a silvery shade of blue that's mystical and enchanting, the perfect color to match up with this super side-swept 'do. It's chilling- and in the best way possible.
Bright Dip-Dye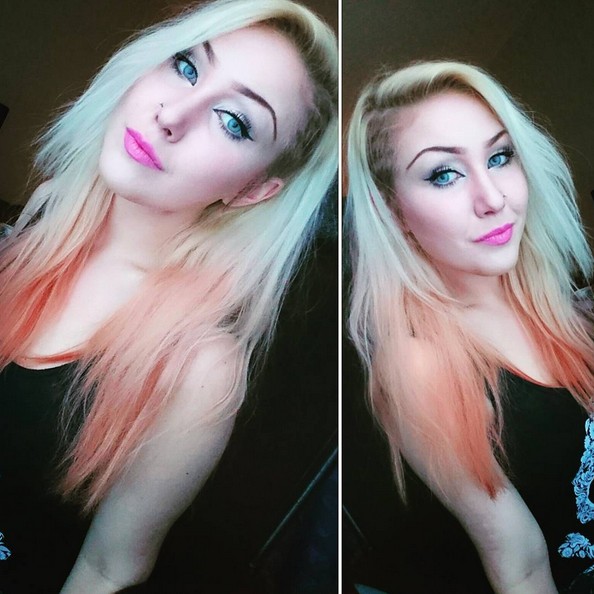 Credit
Dip it, dye it! This bright and spunky look uses the dip-dye method of adding color, a unique new way to add some furious color to your locks. This particular mane is enhanced with a soft blue/green shade, brightened with some fiery orange ends for one fierce combination.
Turquoise Blue with Full Fringes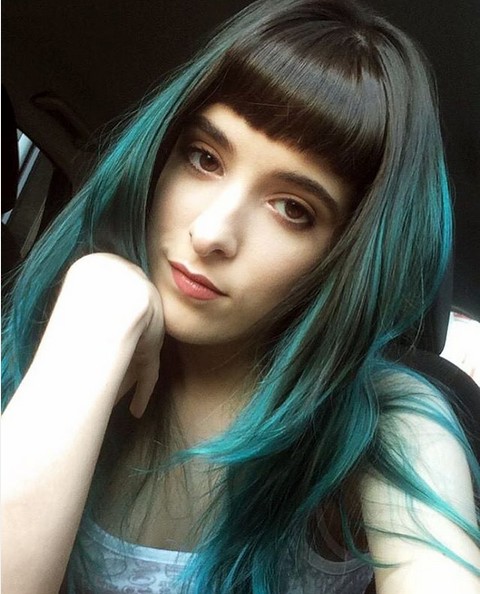 Credit
Long face shapes look awesome with some full fringes, and as an added bonus, thick bangs like these have a youthful effect that looks amazing with this dark shade of turquoise blue. Lengthy layers add instant dimension to this medium-length 'do for an all around youthful and fun look.
Denim Blue Curls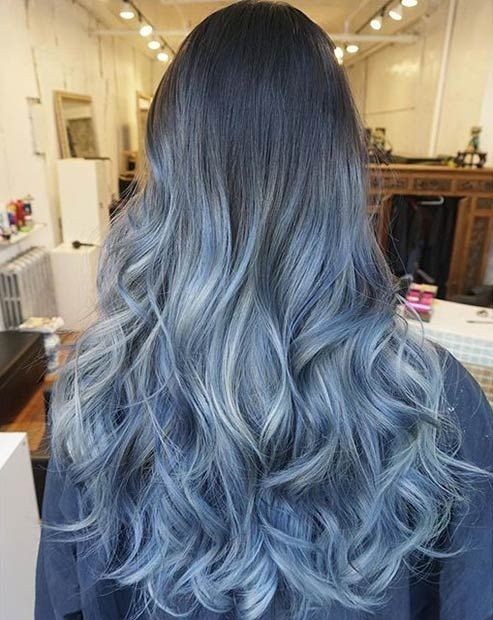 Credit
Take a style tip from your favorite skinny jeans and rock that trendy denim shade right on your mane. This lovely look is popping with different hues of blue, made extra stylish with voluminous, Victoria Secret inspired curls.
Dark to Light Waves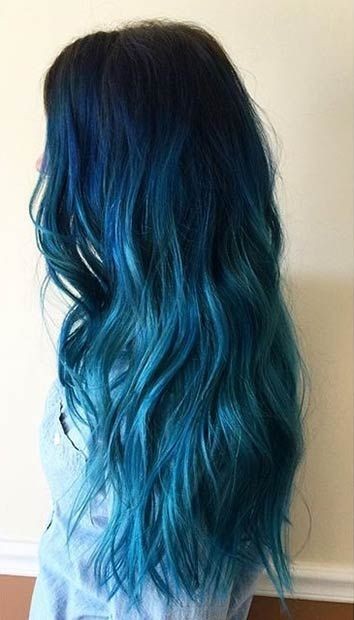 Credit
Dark on top, light on the bottom, this fascinating combination showcases a number of blue hues that are simply stunning.  Longer tresses are ideal for this color combination as you can clearly see the different shades of blue, and loose waves blend these intoxicating shades together beautifully.
Straight Blues – V Haircuts with Medium Straight Hair
Credit
An adoring velvety shade of blue is subtly brightened on the lower half by a midnight blue, a magical blend that is incredibly sexy. This style looks great as-is; simply run a straightener through your tresses and let the colors do the talking.
Purple and Blue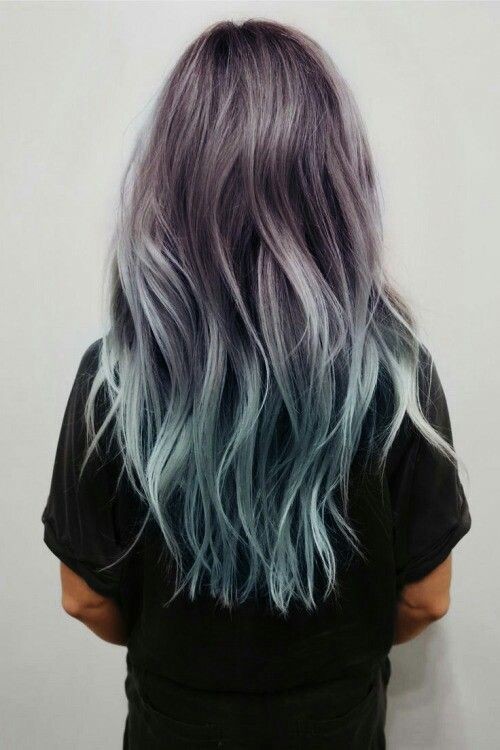 Credit
Purple and blue are two of the trendiest hair color trends right now, but don't settle for the average colors; consider these shades with a gray overcast that's misty and definitely different.
Deep Blue Ends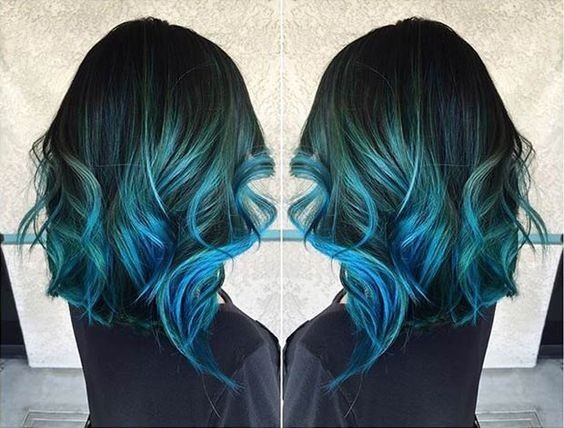 Credit
So you've indulged in an enticing mix of black and seafoam green but your hair still isn't "there". Consider deep blue ends! This exotic shade of blue can certainly transform any hair color base from drab to drastic.
Asymmetrical Blue Bob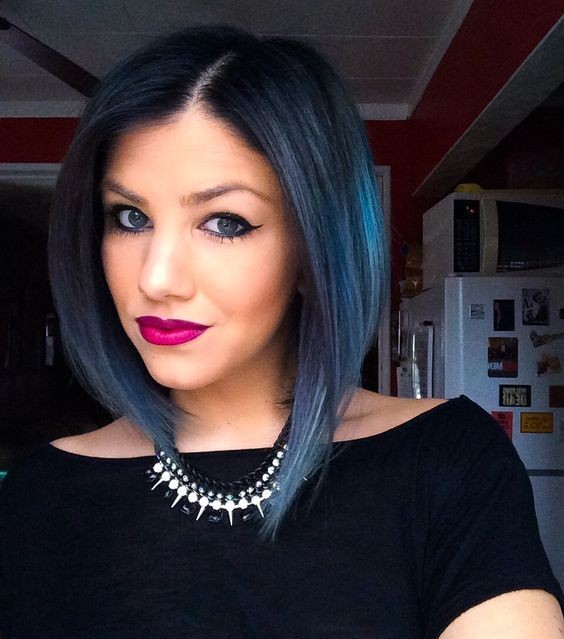 Credit
An asymmetrical Bob is already super chic, but you can up the trend by adding some deliciously dark blue colors to your mane.
Black to Teal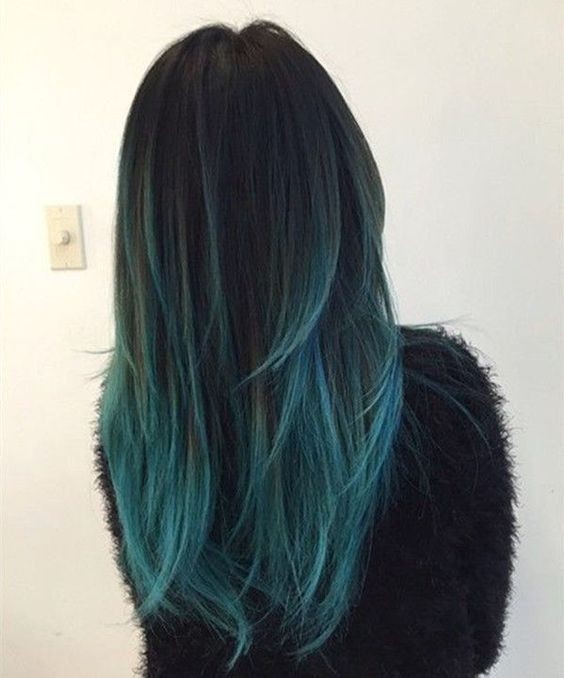 Credit
A black base can look flawless with blue or green on the ends, but why settle for one or the other when you can have both? This delightful real combines hints of green and blue for a very striking feature on her black tresses. What's your favorite blue Ombre Styles?