10 Trendy Pixie Hair Cut for Blondes & Brunettes
No wonder pixie cuts are still leading the trends, they tick all the boxes for the busy, stylish woman!  They're easy-care and you never get aching arms from trying to blow-dry and style the back.  The long fringe can be worn straight, waved or curled to create a variety of looks and flatter different face shapes.  Plus, pixies make you look younger and draw attention to eyes, lips and complexion.  So let's take a look the best new pixies and choose your flattering, new style!
4 views of snazzy short haircut – trendy pixie hair cut in cute white-blonde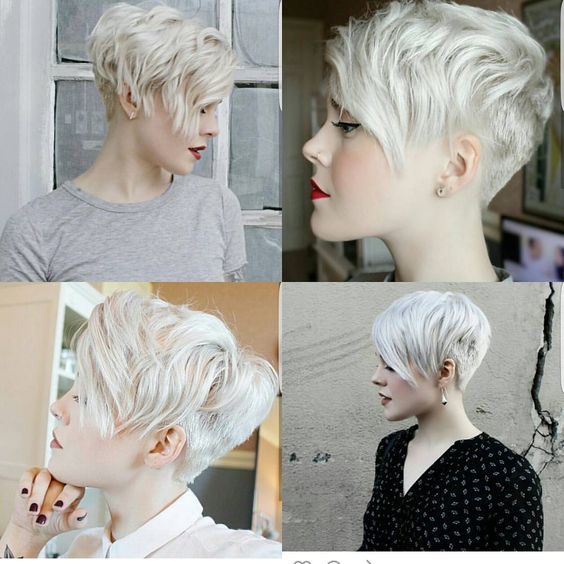 Credit
This lovely winter-white blonde pixie haircut demonstrates exactly what I mean.  The blonde buzzed back creates an attractive curve showing-off the model's head-shape and a nice, clean jawline.  Asymmetry gives a totally contemporary look, which suits women of all ages.  (And can take years of your age – if you're looking for a flattering short hairstyle for over-50's women.)  The long side-swept fringe looks good with ripple-waves or straight, and trendy forward styling is so easy to do at home!
Dainty modern bridal hairstyle – trendy pixie hair cut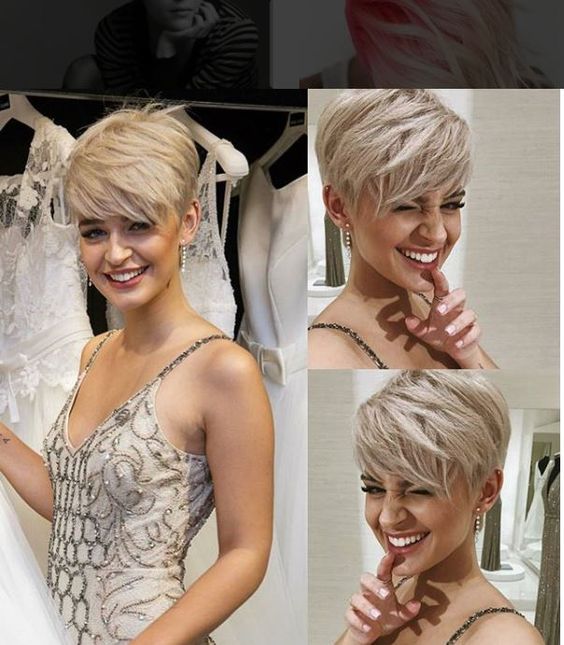 Credit
This is a lovely idea for a modern bridal hairstyle, which will suit a variety of different face shapes.  Covering the forehead helps shorten a long face or hides a wide forehead to balance a heart face.  A deep side-parting is another great way to break up the length of a long face, and it will cut the symmetry of a round face, too.  Pretty dangling ear-rings add elegance and this model will be relaxed and stylish on her special day! Pale beige-blonde flatters skin with warm undertones and reflects light in gorgeous, golden tones!
Ash-blonde geometric trendy pixie hair cuts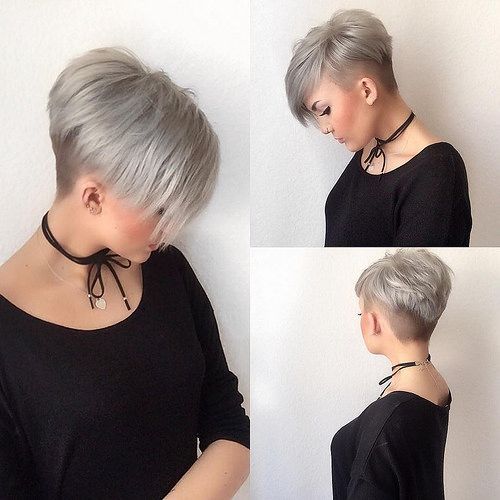 Credit
Short geometric haircuts are a fabulous way to create a super-stylish, fashion image, and this asymmetrical pixie is packed with new ideas.  The short buzzed sides and back are just as important to the design as the longer layers on top.  The side-points shown in the profile pic are cut to form a lovely square line that's totally new.  The nape is also cut into a strong, straight-across line, which is a super complement to the silver-blonde V-shape above!  Ash-blonde suits skin with a cool undertone, but you may need to wear a little more make-up to avoid looking washed-out.
White-blonde 'urban chic' trendy pixie hair cuts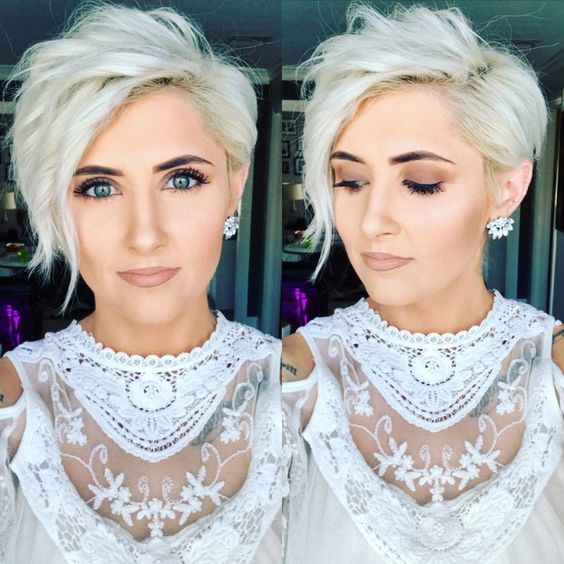 Credit
The platinum-blonde urban look is shown here with a little extra femininity, which makes it perfect as a bridal haircut for trendy young woman!  The model has an oval face, but extra volume around the top of the head and an asymmetric cut, make this a great idea for flattering a round face, too.  White-blonde suits pale skin with a cool undertone, which often comes with blue or green eyes.  And you can see how much this color and style accentuate the bride's gorgeous, green eyes and well-defined brows!
Everyday trendy pixie hair cuts for brunettes with fine hair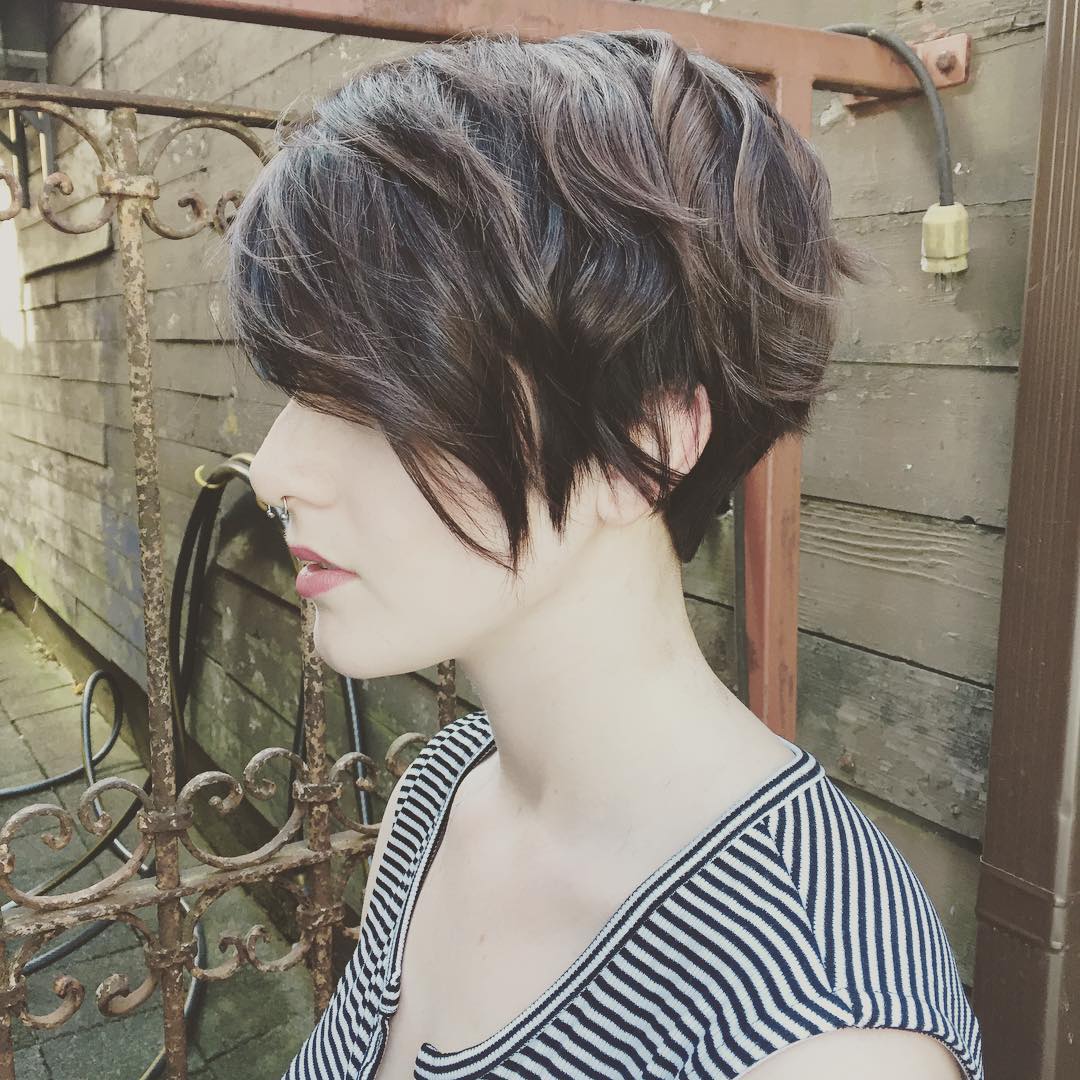 Credit
Look smart and fashionable every day, and in no time at all, with this gently waved pixie cut.  The whole look is soft and cute with long layers creating an attractive rounded shape at the back.  Long layers on top are swept-over from a deep side-part and styled in a natural look with texture provided by defined waves.  The tips are lightly textured to break the line, which finishes in a flattering position at the jaw.  This is a good pixie for medium or fine hair, as natural volume isn't needed. And the unstructured shape shows off soft and silky hair beautifully!
Choppy boho ash-blonde – trendy pixie hair cuts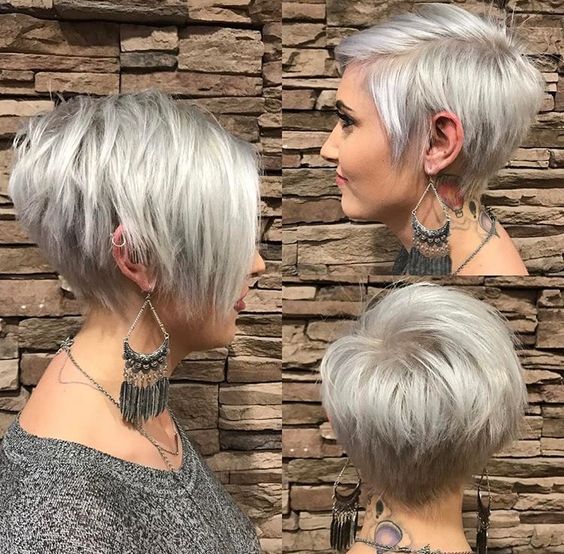 Credit
This boho hair design matches the model's individual style perfectly. Choppy layers add trendy texture at the back and fit well with cute and quirky balloon tattoos on the model's neck.  The tips are heavily textured to make a stylish, ragged-edge line.  Shorter layers on top create even more texture and hair is styled to show the ears, for statement earrings!  Several shades of gray, white and ash blonde balayage are used to add color depth to this striking, high-fashion short haircut!
Stylish silver & ash-blonde pixie with V-point nape detail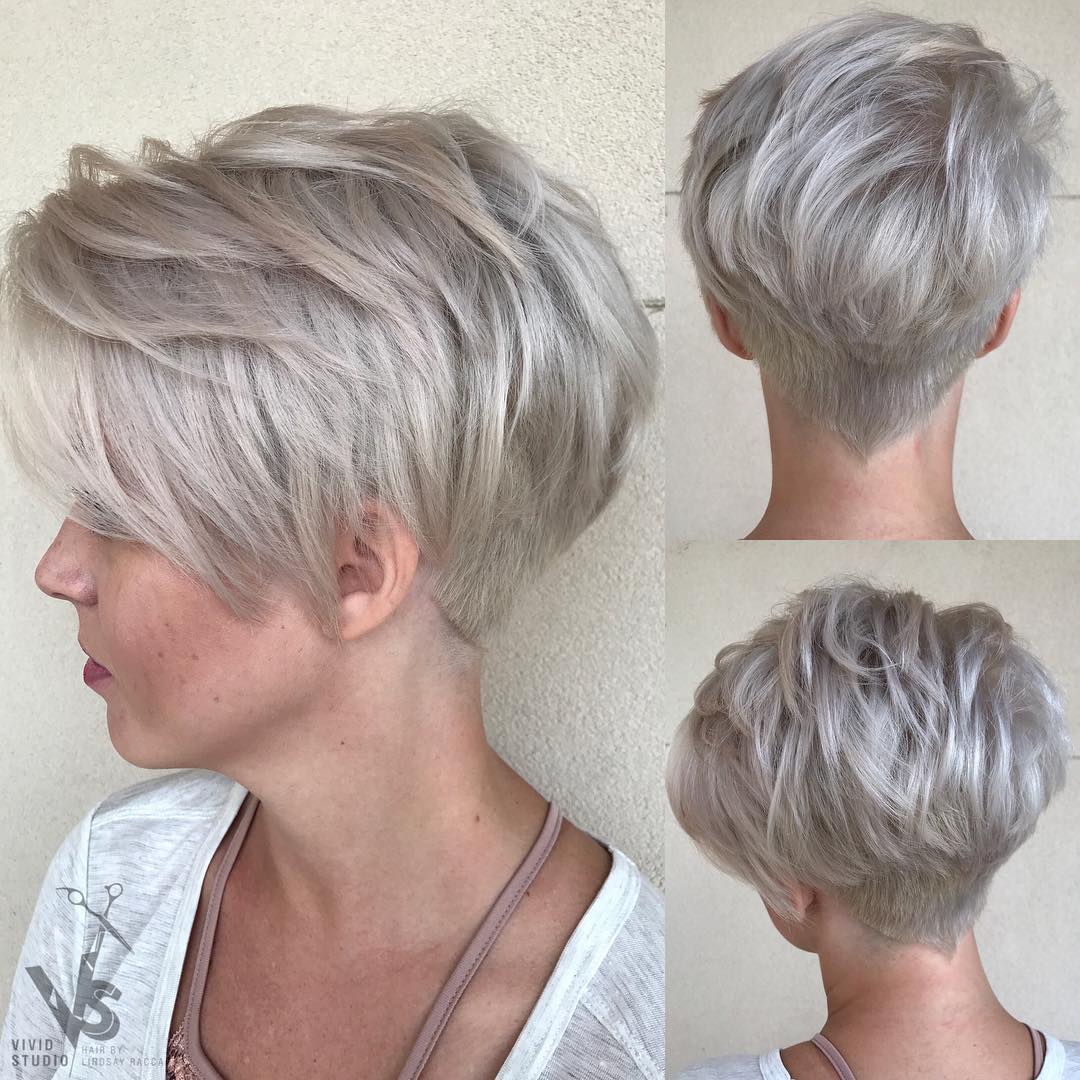 Credit
Here's a great cut and color idea for short hair that's nice and thick.  The asymmetry means the parting can be adjusted by your stylist to suit your face shape perfectly.  And the trendy shades of blonde include white, ash and beige – with a touch of pink toner to harmonize with the model's reddish skin tone.  But it's the fabulous single point at the nape that gives this classic short haircut a super-trendy, new twist!
Ginger-peachy hair for stylish textured pixie haircut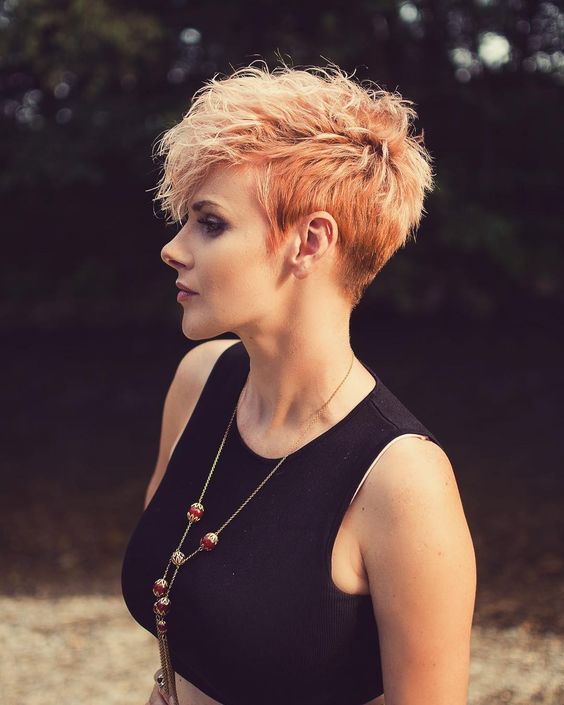 Credit
Orange colored hair is one of the rarest natural colors worldwide, so if your hair is 'ginger', be proud to call it orange!  Naturally orange hair, (or tinted), is very popular right now, so enjoy being a little different from the crowd.  This pixie has a short-layered bottom line, with sharp side-points cut around the ear, and down to the nape.  This allows the fluffy, wavy texture on top to stand out in a lovely creative contrast.  And with an orange base fading to funky peach ombré on top, this is a fabulous two-tone pixie idea!
Special-date style on undercut pixie for thick brunette hair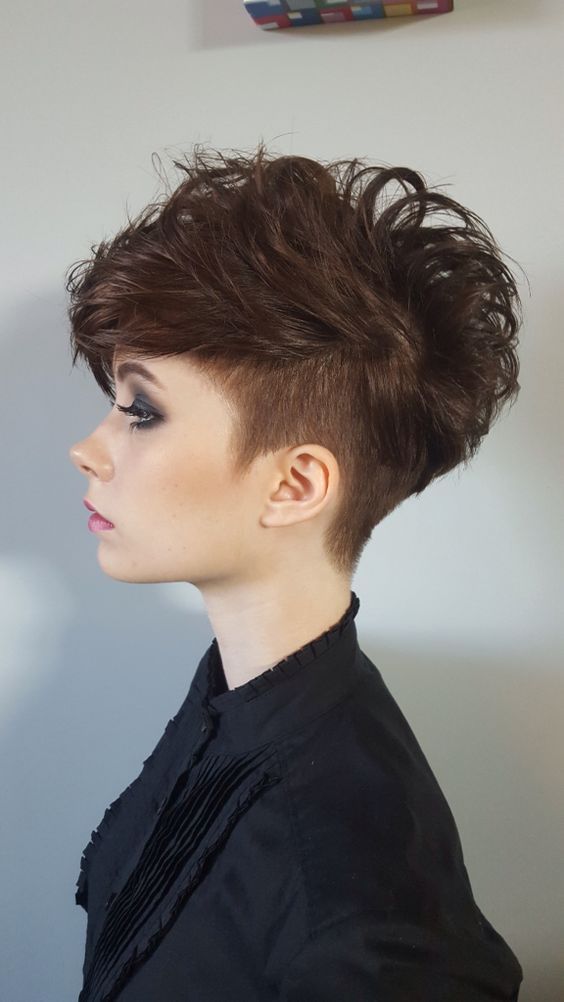 Credit
This asymmetrical pixie hairstyle makes the most of thick hair by creating an extravagant high-volume coiffure!  It's a special occasion look that has the drama of an up style, but the fashion credentials of true trend-setter.  The side-parting has been exaggerated by setting it very low on the short side of the head, above a thick buzzed section cut neatly around the ear.  The long layers forming a deep, low fringe and a swept-across top, are full of exciting texture.  And the crown is accentuated with thick, curved movement moving down to the closely-cut nape.
Classic chic updated – short pixie-cut with pink balayage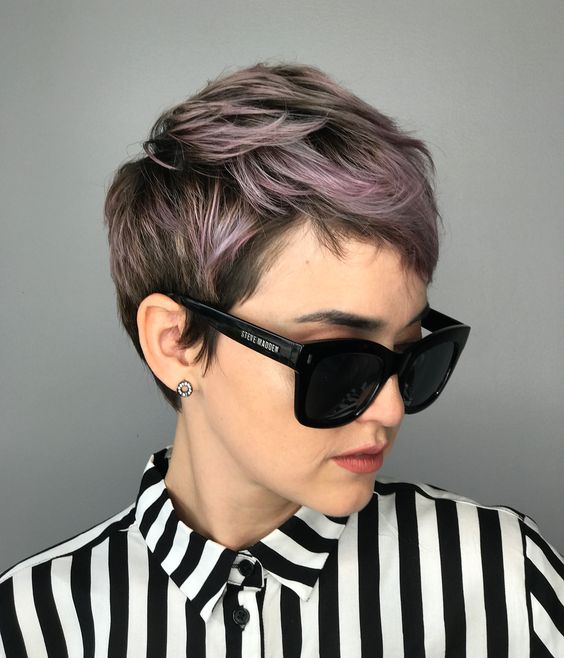 Credit
This is the original pixie-cut with which actress Mia Farrow shocked the world in the '60's!  She cut off her lovely, waist-length hair, left her guy and married Frank Sinatra!  And although she may not be so famous anymore, this flattering, short pixie has become a classic.  It's a great style for fine hair and will show off a good bone structure and dainty features to perfection!  Today's fashionable women can update this chic look with a touch of rainbow color, like this white and pink balayage!