10 Stylish Short Hair Cuts for Thick Hair
Thick hair is incredibly versatile, looking equally stunning when with long and short hair too. Indeed, thick hair lends itself to a variety of incredible hairstyles, including bobs and longer length looks. Our favourite way to style thick hair is by opting for a shorter style, which is why we've collected some of our favourite short hair cuts for thick hair in one handy post. Take a look at this blog, choose your favourites and be brave opting for your next hairstyle!
Curved Light Brown Bob – Balayage Short Haircut for Thick Hair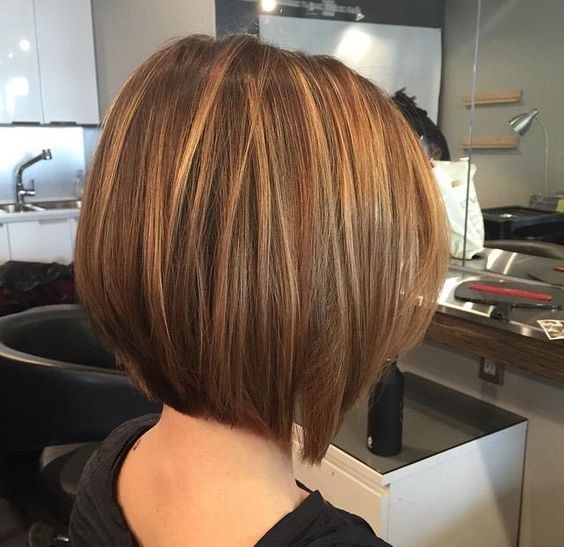 Credit
Adding layers to the back of your bob will consequently create the stunning curved silhouette we see above. This gorgeous dark brown hair is full of light brown highlights, which creates a wonderful look. Keeping the hair straight and sleek to show off the style to perfection will create the perfect end result. This look would be just as special when curly too!
Asymmetrical Blonde Bob with Brown Streaks – Balayage Short Hairstyles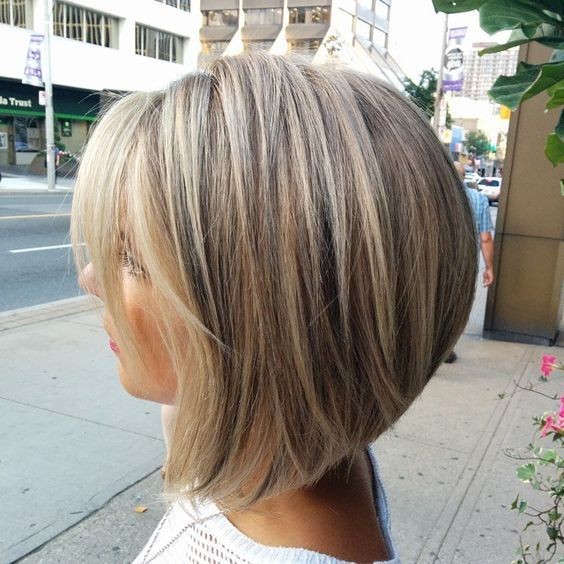 Credit
Asymmetrical hairstyles are simply gorgeous, working from a longer length at the front of the hair. Gradually getting shorter, the layers work towards the back of the head layers and the end result is a graduated line like this. Rich brown streaks have been added to this blonde hair, which we think looks simply stunning. Finished with a shorter fringe section, this style is to die for.
Brown Balayage Curly Short Bob Haircut – Everyday Hairstyle for Women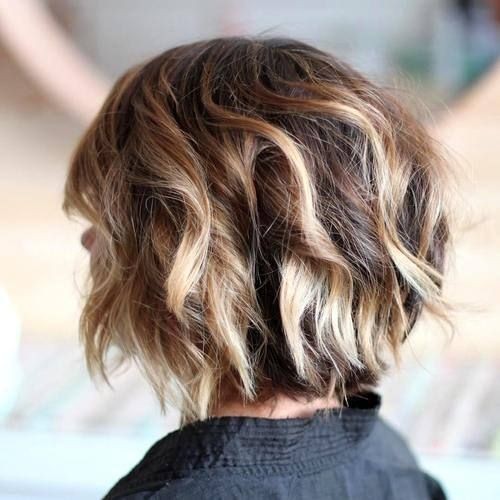 Credit
Curly bob hairstyles are an exceptional way to show off beautiful thick hair! Brown blends to blonde in this gorgeous balayage blend pictured above. The colour transition is highlighted thanks to the cut and these colours work together seamlessly. Full of short layers for a textured finish, the tight curls from root to tip take the look to the next level.
Voluminous Curly Blonde Bob: Messy Short Hairstyles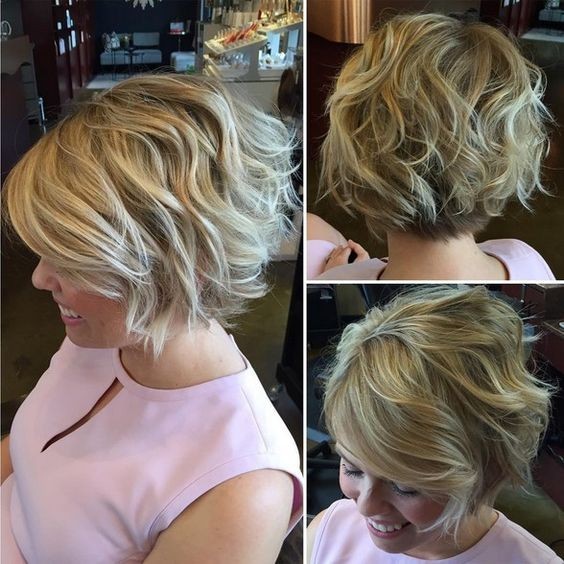 Credit
Volume is essential for creating a dramatic style for a special occasion. This stunning blonde bob is full of volume, and shows off this lady's thick hair to perfection. Blonde highlights are woven throughout this bob and create the best bright finish. There is long fringe section at the front of the face which makes this curly bob is oh so swoon-worthy.
Tousled Red Lob Hair Styles – A-line Short Haircut for Women Thick Hair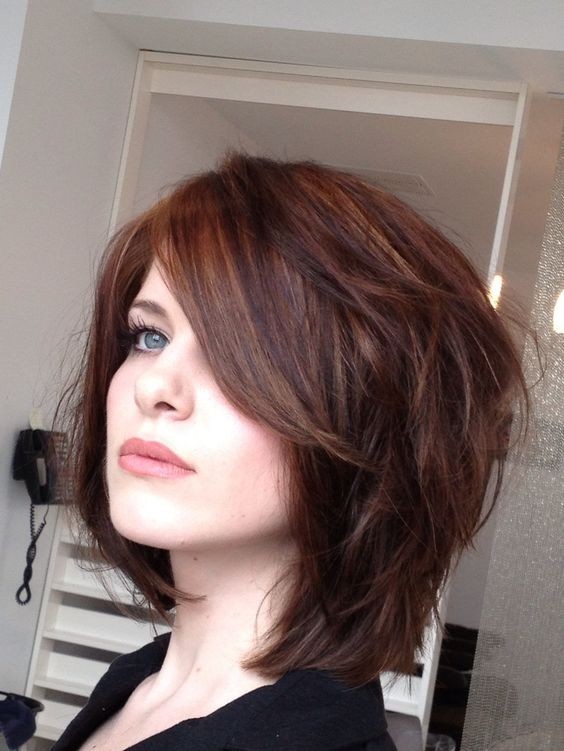 Credit
Longer bobs can be equally stunning as shorter ones, and this gorgeous style finishes a few inches below jaw level. Plenty of choppy layers have been worked throughout the style which consequently creates a feathered finish. A fringe has been added to frame the face. The bob is a gorgeous and vibrant red, and the hair has been tousled for an edgy effect which we adore!
Tousled  Ombre Bob Hairstyle – Balayage, Messy Short Haircut for Thick Hair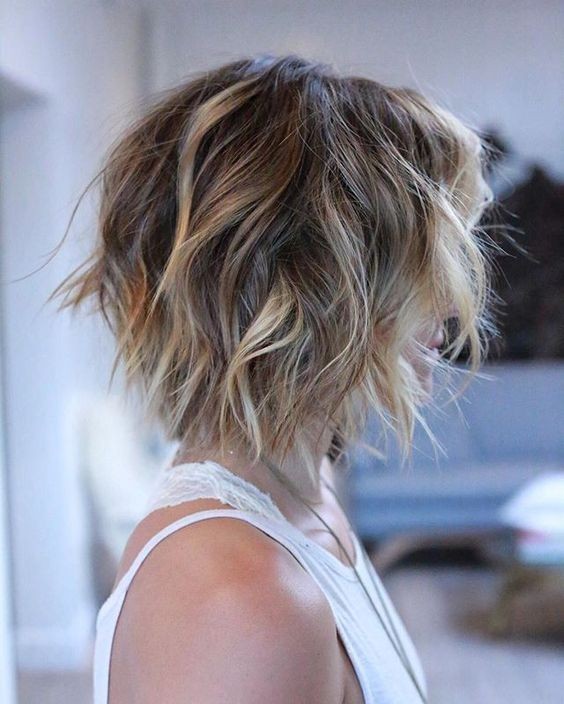 Credit
Ombre is a stunning hair transition which blends one colour to another, which in this case is brown to blonde. The two colour seamlessly merge which results in a stunning effect, best showed off by a slightly graduated bob full of texture. To recreate this look, add tousles throughout the style which creates the desired texture pictured above.
Swept Back Copper Bob Hairstyle – Thick Hair Cuts for Short Hair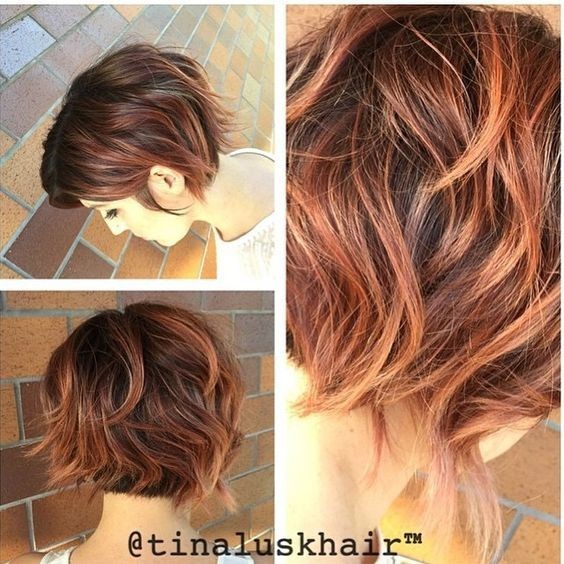 Credit
The hairstyle pictured above is a stunning example of a short hair cut which brings thick hair to life. To recreate, finish your bob around the ear level and add lots of short layers throughout. The shorter layers work their way up towards the top of the head. Curl the hair for effect, and end by tousling the curls for a swept back finish.
Curly Blonde Bob Hairstyle with Choppy Layers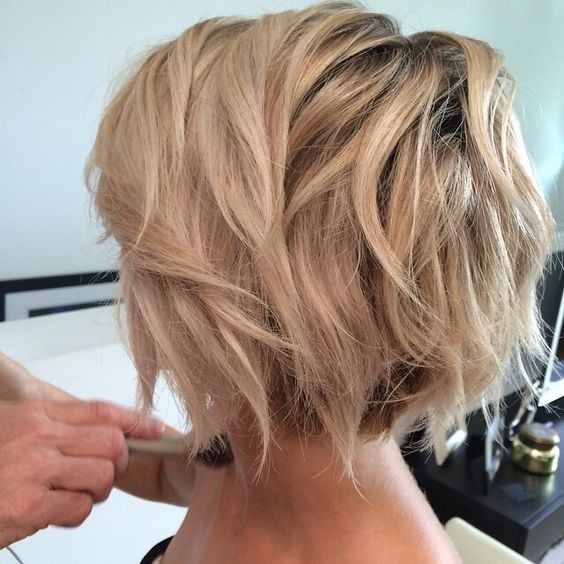 Credit
Women can work stunning short hairstyles into their thick hair because there's so much to play with. The blonde textured crop pictured above is a perfect example. Add lots of short layers throughout and it creates an edgy finish. Bring your cut to life by adding lovely curls worked from root to tip for a look which we absolutely adore.
Sweeping Icy Blonde Wedged Bob Hair Styles – Women Short Haircut Ideas for Thick Hair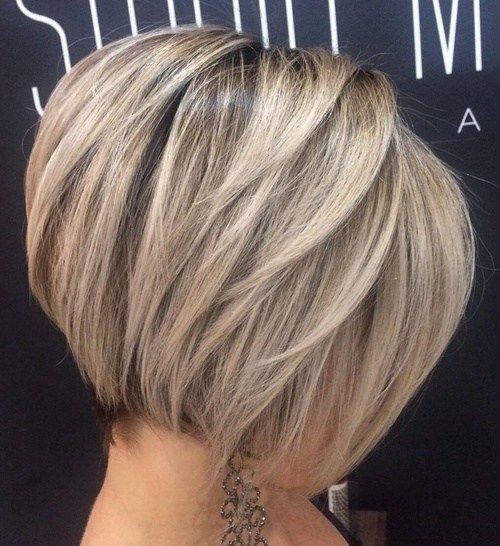 Credit
To recreate this gorgeous stacked bob, start by working layers throughout. Add shorter layers at the top of the hair and throughout the back of the head to create a wedged effect. Leave the front of the hair longer to form a sweeping fringe. Finish the look with a selection of stunning blonde highlights throughout the entire head and enjoy your new style.
Textured Bob Full of Layers – Layered Short Hairstyles for Women Thick Hair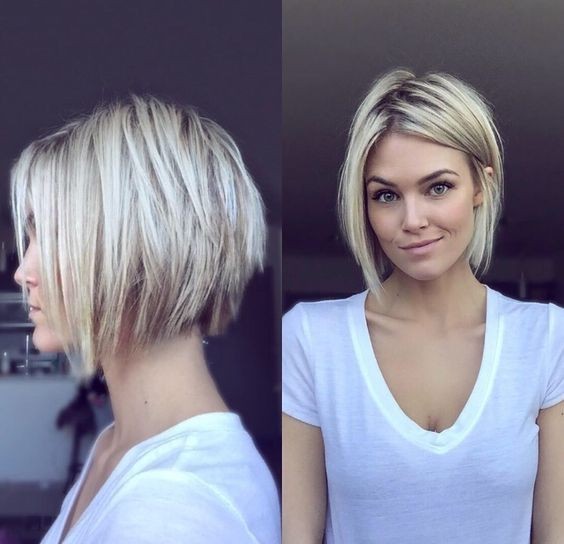 Credit
This stunning look might just be our favourite from this collection. Work this style into your own hair cut by opting for a jaw length bob. Because this look requires texture, add lots of choppy layers throughout. This lady has opted for bright blonde hair, but you can choose your favourite shade! Create a straight and sleek look for texture to finish!
No matter what your style or the colour of your hair might be, this gallery will have the perfect hair inspiration for you somewhere. Simply let us know which looks you'd like to see us explore next in the comments below.